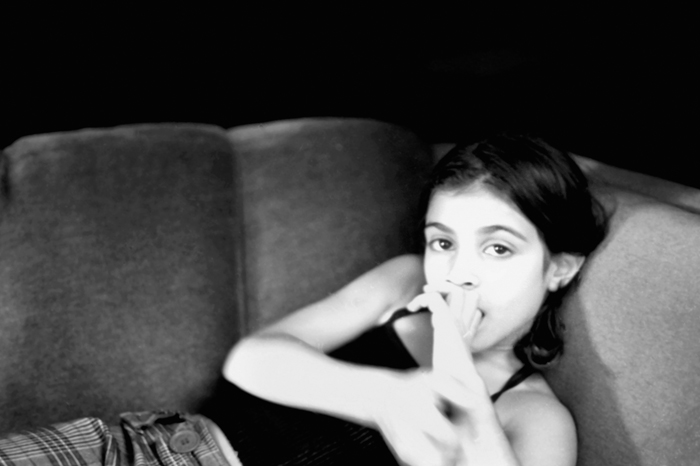 Talia at Soundview
my work has been accepted into 2 more upcoming juried exhibitions. pretty cool! firstly, the Pocket Sized Exhibition at the Islip Art Museum. Brookwood Hall, 50 Irish Hall, East Islip NY, 11730. the opening is on Sunday, June 28th from 1-4pm and the show runs June 28 – September 13, 2015. and, looking at the list of finalists, i am in some great company.
what makes this especially exciting is that i 'found' this negative only a month ago as i looked back over all my work. it was made in '04  during the development of my 4 year series, On the Periphery Life Going By, where i photographed two sisters almost exclusively. it didn't make the cut then – frankly i didn't remember it. but something grabbed me this time. after staring at it on the lightbox i decided to scan it for viewing on my monitor. next came a work print followed by the submission deadline. after much hemming and hawing i decided to submit – it was 1 of 3. talk about fast confirmation!
i'm also pleased to let you know that my image, "To Risk" has been accepted into the International Phone-opgraphy Competition, at foto foto gallery juried by Dan Burkholder. he is an innovator in the field of digital photography. some of you may have seen this piece in the What is A Portrait exhibit last december. however it will be displayed rather differently at this gallery. i'm thrilled to see this image is resonanting. the opening is on July 11th 5-7pm at foto foto gallery, huntington, ny.
"To Risk"
 "Risks must be taken because the greatest hazard in life is to risk nothing."
William Arthur Ward
only occasionally do i accept commissioned work. this is mostly due to the enormous energy output required & since stamina is not my strong suit, it forces me to be rather selective. i do however, love being enticed by interesting projects and was fortunate enough to have another one come my way. lucinda is an emerging artist who connected with me through social media. although i had never photographed someone i hadn't met before i did have a strong hunch based on our virtual conversations to do so! boy was i right – the photo-shoot was such an inspired creative collaboration and fell right in line with my responsive and spontaneous approach that permeates my personal work. she traveled out of the city to meet me and we spent the majority of our time in a nature preserve making lots of pictures. in the final moments before dark we scooted over to a small historic cottage on a lush property, neighboring where i live, that had just been restored. the bathroom is my favorite room in the cottage, housing a gorgeous claw foot tub. as if reading my mind she suggested jumping in. voila! inspired by her free spirit, openness & vitality i titled the image, "To Risk" named after the poem by William Arthur Ward. most of my work explores one's connection to self, each other and the natural world and this was no exception. for me making art with artists and seekers is bliss & the experience continues to urge me on.
i'd be grateful if you'd share these invites on facebook or e-mail-links below!
i have been posting on INSTAGRAM – come follow me there!

thanks so much for being here and if you have any questions or feedback please leave a comment below.
with gratitude from