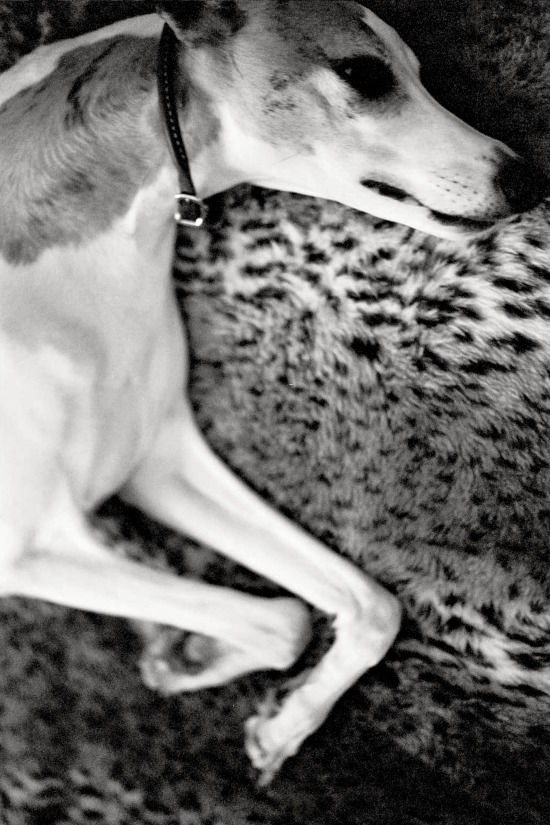 shāna, Cervo, ©2005
i'm changing things up a bit this month by format & subject matter. i didn't grow up with any dogs although the idea of having one always intrigued me. we had 3 cats whom, of course i loved, but i never really felt like a 'cat person' – and most especially now as an adult.
back in 2005 a friend asked if i would dog sit her golden retriever for the night. the idea held an air of enchantment for me. this very experience ended up being the inspiration that launched my in-home dog sitting service! i welcomed small dogs, only one at a time for overnights and loved it. this was during the time i was home alot recovering from a health crisis so the company and cash flow were most welcome.
my first 'customer', a whippet named cervo, forever changed my heart. i was so enamored by his beauty & grace. when returning home he would stand on his hind legs & wrap his front ones around my neck, hugging me. he became a regular and many others followed.
"Until one has loved an animal, a part of one's soul remains unawakened."  Anatole France
i often hear people talk about how much they love their dog, animals in general. i thought i loved animals. but frankly, it wasn't until this experience that i truly knew what it felt like to really love, no, to actually fall in love with an animal.
WOULD YOU LIKE  A BLACK & WHITE PORTRAIT LIKE THESE OF YOUR BELOVED DOG?
GREAT, I'M OFFERING A SUMMER SPECIAL!
This is all in the effort of raising money to purchase a much needed new camera – so while you're at it, you can feel good about supporting an artist!
HERE ARE THE DETAILS:
BLACK & WHITE MINI-SESSIONS

∙ Give me and your dog about 1/2 hour ∙ 
∙ This will take place in your home if you're in the Huntington vicinity otherwise you'll come to me! ∙

 ∙ (1) week turnaround time ∙

∙ You get (1) beautiful, unique Fine Art Print* of your loved one and (1) lo-res digital file ∙

∙ I'll choose only the best one, promise! ∙

ONLY  $147.  ** way, way below my commission rate!

* (paper size 8.5 x 11 ・image size will vary)
Payment is Due Prior to The Session
10% of the session fee will be donated to Little Shelter Animal Rescue & Adoption Center
(length of promo subject to change at my discretion)
Know anyone that would love this?  Please pass it on – I'd be very grateful!
do you want to know more about a particular image(s)? awesome, i'd love to feature it in a future "Art Notes Monthly" installment. for ideas you can look in the galleries here & here.
please let me know in the comments below. don't be shy. i'd be honored.

thanks so much for being here!
share away by using the social media links below!

cheers from