A move, a concussion & the last days of summer…
It's been an interesting couple of months. Shortly after moving to my new digs at the start of summer I suffered a concussion. This required rest, rest & more rest. Minimal stimulation is key to a lasting recovery I'm told. For the most part, amongst other things, that meant no computer, excepting for some peaks here & there. I'm slowly getting back to myself. September always seem to help move things along for me.
As usual, a camera helped get me through. I brought a borrowed digital point & shoot (yes, still don't have one!) to the E.R. so in between the pain, fear & fainting came this self-portrait. Lovely, ay?! Art is about process, not product, as Julia Cameron so aptly states in The Artist Way. To that I add, as is life.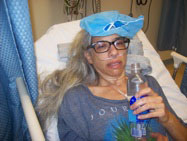 "The world of reality has its limits; the world of imagination is boundless." Jean-Jacques Rousseau
On July 4th, fine art photographer and blogger Aline Smithson, showcased an on-line exhibition with "Summer" as it's theme. Since I wasn't able to share it with you then, I thought I'd bookend the summer by including it here. The image above, Levitating, is included in the The Lenscratch Summer Exhibition. Please have a look and relish summer's last days. However, I'd love to hear from you in the comments below before you go!
Here are some of the images I made this summer:
I would love to hear from you in the comments below.  While you're at it,  feel free to share the post by using the social media links below.
cheers from